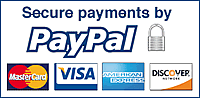 The Pastor Search Network will display your 300 word ad on our site for a period of 60 days, for a cost of $35. Your ad will be viewed by thousands of visitors a week. Upon submission of your ad, you will need to be prepared to make immediate payment by PayPal or Credit Card. Your statement will show Victorious Christian Ministries as the recipient of your payment.
To place your ad, please complete the form below and submit. Your ad must be in compliance with our guidelines. It will be posted publicly as soon as it can be reviewed and your payment is confirmed.

IMPORTANT! This form is for submitting a NEW ad only! If you attempt to submit a duplicate ad identical to one currently displayed, it will be rejected by our system. To renew an expiring ad, or to submit a duplicate ad to another category, contact us here.
Account Information
Please provide the following account information. To help protect your privacy, we "do not" display your email address visibly with your ad (unless you choose to include it in your ad text). Inquirers are able to email you by means of a reply-to link, which when clicked, will reveal your email address so they can send you a messsage. If you need complete anonymity, review our FAQ's here. If you enter your website/resume URL in the field below, it will be automatically displayed and linked with your ad. All fields marked with « are required.
Your Name«

Address«

City«

State/Province«

Zip/Postal Code«


E-mail Address

« Read FAQ

Telephone Number«
(10 digits)

Verify E-mail Address

«


URL of your web page or resume' Read FAQ

Payment Method«

Be sure to enter our domain "pastorsearch.net" into your email safelist so
to avoid any false spam blocking issues when we reply by email.
In case of any glitches, first SAVE a backup copy of your ad to a separate file!!!
Your Ad
Provide the details for your ad below. Category, Headline, Text and Password are all required«.
Headline«
(Suggestion: Include state or locale)
Text of your ad« (Limited to 300 words.)
(If privacy is no concern, you can include your address, phone or email in your ad text.)



Create a Password«

(All one phrase, no spaces)
Verify Password«
After you preview a draft your ad, you may submit it.